By Charlie Hulme, LC - National Business Development Manager, Anolis Lighting North America
SHEDDING LIGHT ON PHOTOMETRICS
Examining the science behind the measurement of light
As our most trusted identifier of perceived brightness to the human eye, Photometry is the science of the measurement of light. Although the human eye is not equally sensitive to all wavelengths of visible light, Photometry weighs the measured power at each wavelength and provides for calculations of the luminosity. 
In architectural lighting, photometric data files are an essential part of the design process. They are used to accurately represent the spatial distribution of light intensity from its source, and they are critical to real-world photometric calculation software and renderings. Computer programs for lighting design often require a large input of photometric data and luminaire descriptions, necessitating the need for an industry-standardized file format.
The luminous intensity data needed for photometric files is generated by a Goniophotometer. A goniophotometer is a mechanical device consisting of an apparatus to support and position the light source, and a light meter which measures luminous intensity at a set distance and a given angle.  These measurements are compiled for 855 different angles and are tabulated in a text file.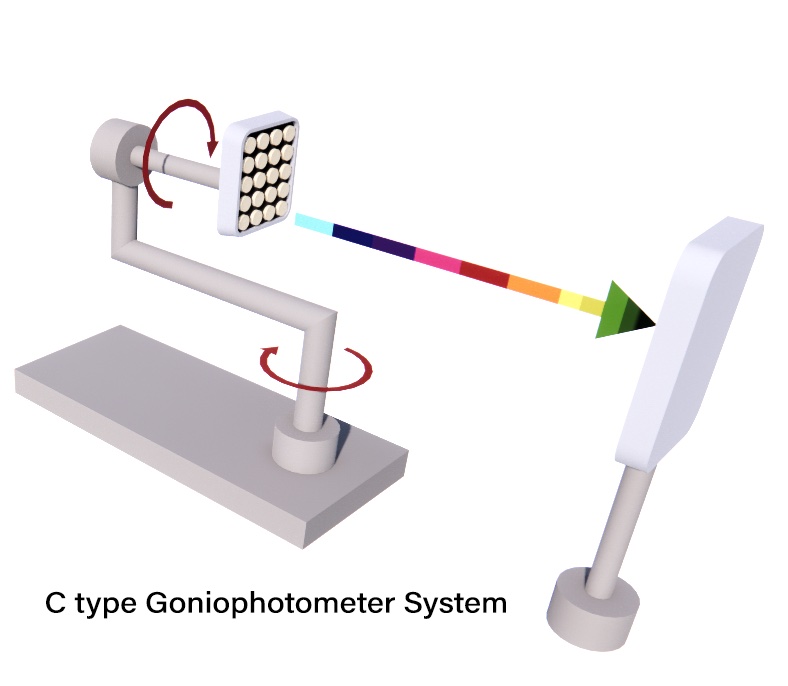 The photometric files used in architectural lighting are an ASCII (delimited text) file. There are three file formats of interest to the lighting community – IES, EULUMDAT, and TM14.
IES – Created by the Illuminating Engineering Society (IESNA) in 1986 (updated twice in 1995 and 2002), it is published as IES standard LM-63-86. The IES file is the most common format in North America, but it is also used widely in Europe and other parts of the world. IES photometric files have the .ies filename extension. 
EULUMDAT – Also known as LDT, this is a standard commonly used in Europe. The file format was proposed by Alex Stockmar of Light Consult Inc. in Berlin in 1990. EULUMDAT does not have a recognized standards organization to define and maintain it, so it has largely gone unchanged since its introduction, and there is no official publication that documents the file format. Nonetheless, LDT files are still widely used.  LDT photometric files have the .ldt filename extension.
TM14 – Introduced in 1988 by CIBSE (Chartered Institution of Building Services Engineers) in London. The format never caught on in the lighting industry.
At Anolis Lighting, we publish both IES and LDT format files for our line of LED architectural luminaires. By doing so, we allow lighting designers to evaluate the total light output and beam spread of our lighting innovations using many software programs such as AGi32, AutoLUX (AutoCad extension), DIAlux evo, TracePro, Wysiwyg, FocusTrack, Vectorworks, and Radiance (open source). This means that no matter what design program you, or your design firm, may use to create your architectural lighting environments, we have the design tools needed to make your vision a reality.
Charlie Hulme is the National Business Development Manager for Anolis Lighting, a Robe Business. He is a member of the Illuminating Engineering Society of North America and holds LC Certification from The National Council on Qualifications for the Lighting Professions.