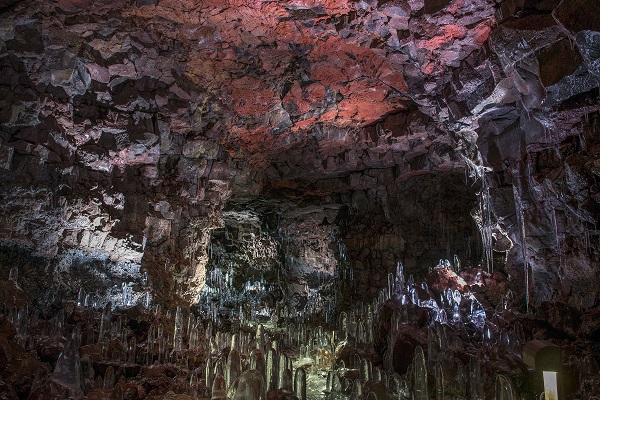 Darc Awards 2018 winner 'Best Landscape Lighting Scheme High Budget'
"Lava Tunnel" is a spectacular lava tube tunnel - one of the longest in Iceland at 1360 metres, and around 30 metres wide in places, with up to 10 metres of headroom. Its majestic and intricate interior collage of colours and textures is the result of massive volcanic eruptions 5000 years ago.
Once EFLA Engineers had won the tender to design and specify the lighting, the mission was to ensure that the design was as harmonious and integrated with the environment as possible, with the overall goal of producing a unique adventurous visitor experience for discerning natural art lovers.
Sixty-four Anolis ArcSource Outdoor 24 MC RGBWs and 36 x Anolis ArcSource Outdoor 48 MC RGBWs - with various lenses - are used.  They are scattered all over the bed of the cave, secreted behind rock sills and tucked into in crevices, arranged - with the help of an installation team of professional climbers - to be completely out sight.
The fixtures are powered by 25 Anolis ArcPower 192 Outdoor power supplies, running back to five distribution points along the tunnel which are fed via the national grid. All the lighting equipment was delivered to the project by the Anolis Icelandic distributor Luxor, together with a selection of full and half top hats, plus some modified barn doors.
Read more in the Case studies library ........