Lighting Landscapes - The challenges of lighting dynamic and changing environments
by Simon Gooding - Business Development Manager, Anolis UK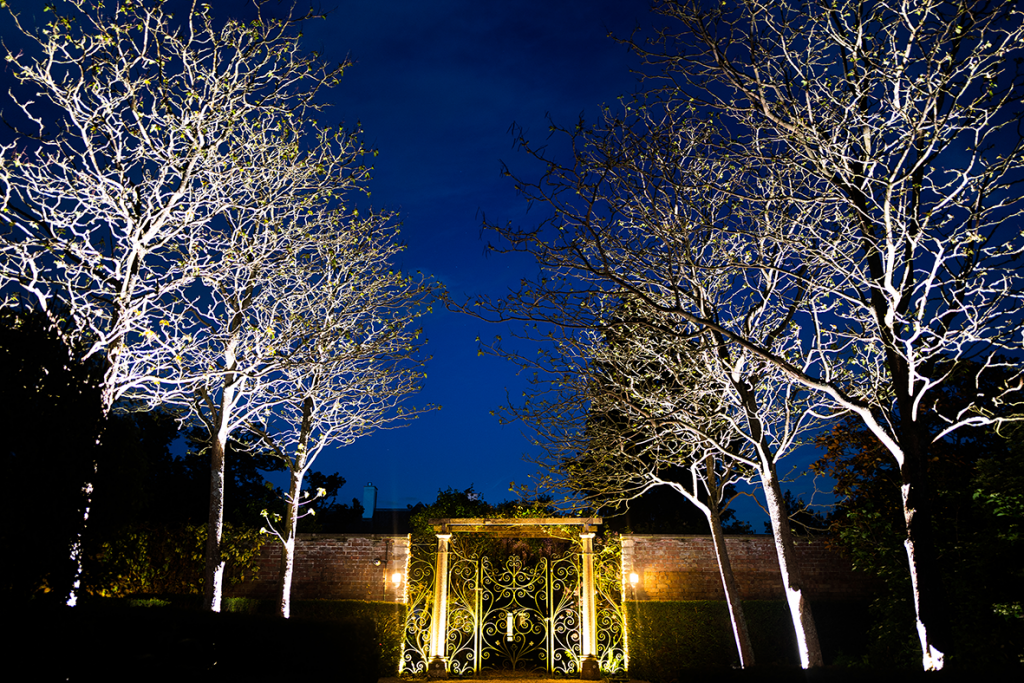 Landscaping lighting is defined as ' the use of outdoor illumination of private gardens and public landscapes; for the enhancement and purposes of safety, nighttime aesthetics, accessibility, security, recreation and sports, and social and event uses.' (Wikipedia)
With the increased importance on wellbeing and spending time outdoors, illuminating the surrounding landscape can bring a new lease of life to what was once a dark and uninviting space.
Landscape lighting is one of my passions. A skilful and well thought out design can totally transform the space and bring a night time ambiance and vitality to an area previously unthought of. But the challenges of lighting ever changing structures like trees should not be underestimated. There are no prescribed standards for lighting trees and they do not lend themselves to a realistic simulation well. It requires fine judgement and creative intuition along with skilled mock-up scenarios
Landscape lighting design is not just a case of adding a few spotlights into a flower bed and hoping for the best but putting some thought into how the space is used, the key features and foliage that can be brought to life at night as well as wayfinding. A detailed lighting design can create ambiance and a magical touch that creates a mood for the space whether it is a public space or your garden.
Advantages of lighting landscapes
Enhancing the space and creating mood
When we introduce artificial lighting to landscapes, parks and gardens it extends the useable hours for those areas. The lighting also helps create a new mood and ambiance and supports the night time economy by rendering towns and cities safer, more vibrant and attractive areas to explore and spend time in. The night time sector, including restaurants, bars, nightclubs, and other night time services, contributes 6% a year to the GDP of the UK economy, and eight percent to employment.
Lighting for safety
In helping to deter crime lighting offers many advantages. Better lighting means that criminals have less dark areas in which to conceal themselves. But increased footfall to well lit landscaped areas means more public scrutiny which helps significantly as a deterrent. Lighting also helps reduce the fear of crime for those more groups in society more vulnerable like the elderly and younger women.
There is such as range of options to do this depending on scale and budgets, white and colour can completely change the scene and mood, this can be soft mood lighting or more dynamic effects to add a level of excitement and drama.
Elements a designer will take into consideration-defining the brief.  Here are some main points to consider and questions to answer to define a clear brief:
What is the nature of the project, the client and the context?
How will the space be used? And where will the lighting be visible from?
Is the project new build or refurbishment?
What are the client's objectives/ landscape architect's objectives/ lighting designer's objectives – and are there any conflicts between them?
Is the project within an existing urban lighting strategy?
Should we connect an outdoor space to the indoors?
Are there any statutory constraints eg: planning, listing, or conservation?
Are there any light nuisance issues?
What will the operating hours be?
Control and power options – mains or low voltage?
Under what type of contract will the design be carried out?
Is there a maintenance strategy drawn up, and a budget for this?
As with any lighting design project it's essential that all members of the design team are in sync and communicating an agreed vision for the lighting.
The Art and Science of Lighting-Proven Techniques
Here are some of the techniques used to provide ambiance and mood:
Less is more-'painting' or washing with light using relatively low levels of light can highlight and pick out architectural features or objects and enhance the contrast between light and dark, especially in rural areas where restrictions are tighter.
Adding layers of light -across a landscape is important to bring depth to the scheme that would otherwise seem flat and boring. Utilising different optics in a way that will enhance the look of the tree trunks versus the canopy of the trees. Using different intensities of the luminaires outputs as well as key placement of the luminaires is important to achieve this.
Textured uplighting- uplighting of vertical surfaces like trees, planting areas and walls is dramatized and made more effective through the use of lower wattage close offset luminaires. This helps prevents glare to users and potential light nuisance through overspill.
Close offset mounting also draws out the textile of surfaces like stone or finishes.
Colour and water- lighting water can prove very challenging for designers. The current SLL LG6 guide recommends cool light sources as a general rule and also cites the receptiveness of water to coloured light.
With still water 'it is possible to 'light' a pool or small lake by lighting the surroundings, which are reflected in the water, achieving twice the effect. Small waves and ripples will produce even more interesting shapes and reflections' (LG6)
Moving water is best lit when the droplets can catch the light. Spotlights can be positioned in the water and located alongside the water jet. These processes are normally undertaken via a specialist water feature designer or manufacturer.
All luminaires used underwater should be IPX8, and the rating should be for the appropriate depth. Some IPX8 rated luminaires are only suitable for a submersion depth of 1 m
Anolis offer a marine grade bronze option which can be submersed up to 10m https://www.anolislighting.com/products/arcsourcetm-submersible-ii
The generic types of luminaires involved in landscaping lighting include the following:
Accent Spotlights
Wash Lights
In-Ground
Path and Area Lights
Wall Wash
Submersible
Indicator/Marker lights
Bollards
Strategic and detailed planning of the luminaires in the same way that the landscape designer would work allows for close collaboration of the design teams to make sure that chosen lighting works in the space. Maintenance, installation and flexibility need to be remembered in the design as this is a living environment and the subject that is being illuminated changes not only during different seasons but over years of growth so thinking about positions are crucial to allow for movement.
Often landscape lighting is an extension of the indoor space and the lighting scheme can allow for a smooth transition between the two whether that's in your own or a public garden. We all want to enjoy more of the outdoor spaces available to use and by using lighting in a way that wants to see it and use it. It should draw you in and allow you to explore all year round.
Anolis have recently worked with Park Light Visual in the design and supply of lighting for Waresley Park. Waresley Park is set amongst 120 acres of beautifully landscaped parkland laid out by Humphrey Repton, a student of Capability Brown, who became one of the great 18th Century landscape gardeners.
This creative lighting scheme is all controlled over a fibre optic network converted to ArtNet/DMX where needed and controlled now by Pharos. Phase 1 focused on the Pond Area with the Illumination of a large willow tree, followed by phase 2 which highlights a rotunda-type feature at the rear of the house using ASO 4MC pixel and ASO 24MC to wash the patio area and linear luminaires for the Pagodas.
Phase 3 is a key area for events and weddings with the lighting of the old Walled Garden. The trees and shrubs are cleverly uplit with coloured light used for special events and to create ambiance, in what is transformed at night-time into a truly magical area.
Over the last few years there has been a surge in outdoor lighting trails and events, especially in the winter months running-up to the festive period. (reference article: The Guardian https://www.theguardian.com/travel/2022/jan/17/all-systems-glow-10-uk-best-winter-light-festivals) These popular events have complimented many established landscape lighting projects, especially at heritage properties of interest where more often, their architectural lighting has synergised with installations created in the grounds, which has attracted new visitors and generated additional revenue for many National Trust and English Heritage establishments.  
Waddesdon Manor has run a hugely successful Christmas light trail for a number of years, showcasing  magical lights and beautiful displays within the grounds and gardens. The event has been designed around the backdrop of the house which is lit in colour-changing Anolis Lighting luminaires, in a stunning lighting scheme designed by the team at Woodroffe Bassett.  The iconic backdrop of Grade I listed Somerset House and its striking neo-classical courtyard will also be spectacularly transformed from November to February playing host to their popular winter 'Skate Late' nights in conjunction with different musical and creative artists. This always promises a joyful season of unparalleled ice skating and is hailed as one of the capital's most favourite festive outings set within a beautiful backdrop transformed by light.
Lighting landscapes involved many challenges and a great deal of lighting design skills, but the visual results are often both stunning and rewarding.
For more details about Landscape Lighting schemes by Anolis please visit: https://www.anolislighting.com/applications/landscapes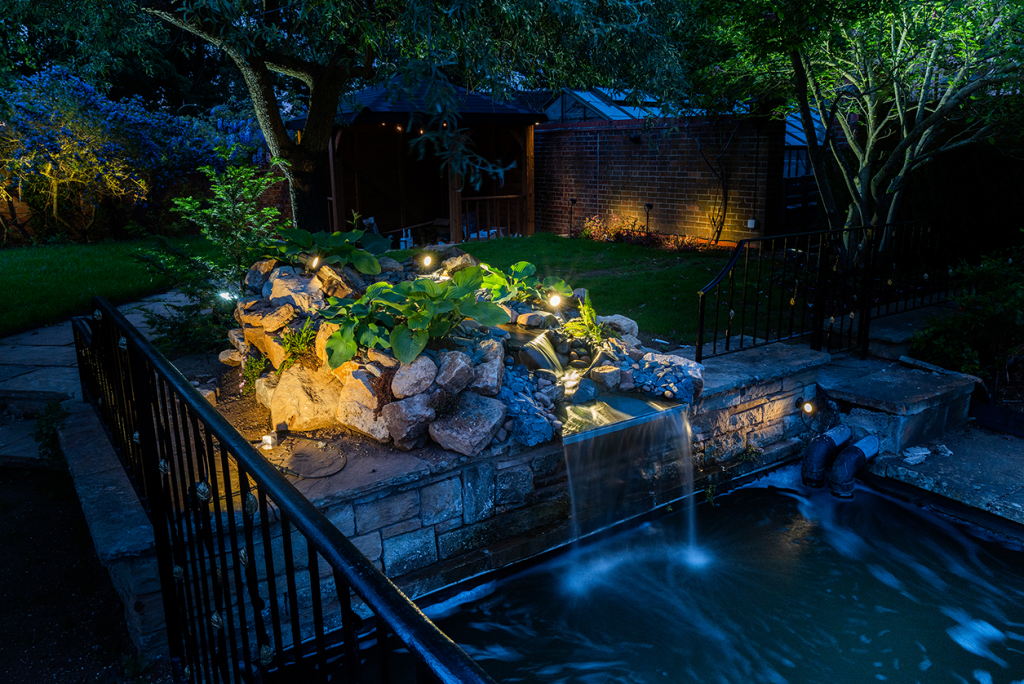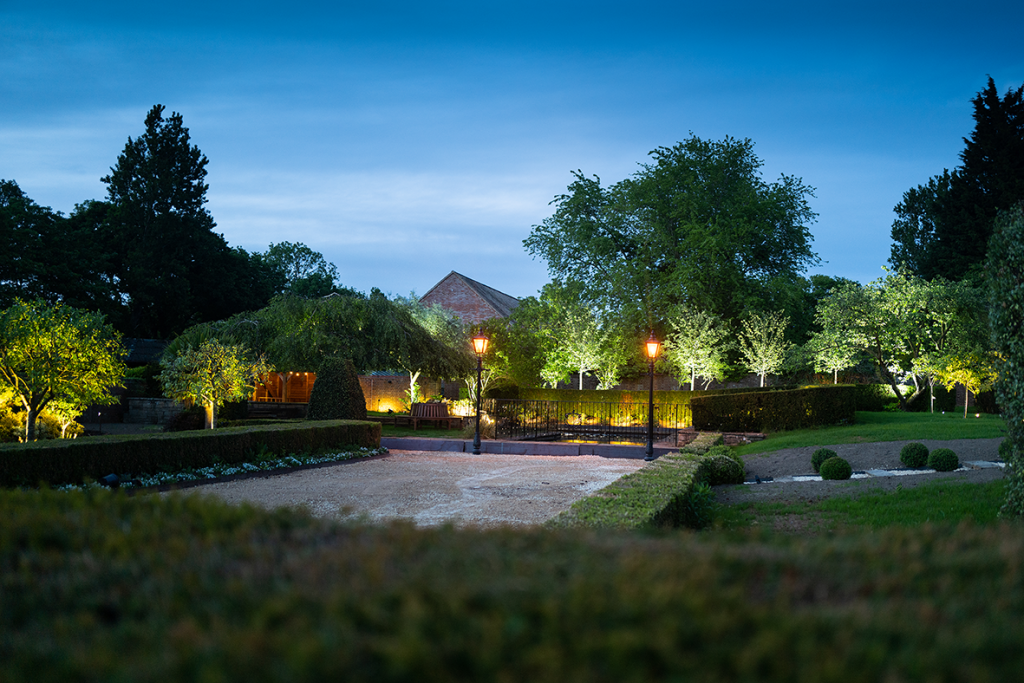 Images: Courtesy of Waresley Park